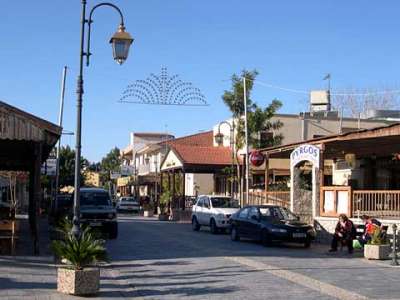 Pervolia is located about 17km from Larnaca centre. It is a village with approximately 1,600 inhabitants and mainly agriculture. Over the last few years it has developed into a small tourist attraction without giving up its unique character. It attracts discerning tourists who yearn for a small quaint place away from large cities. A place where you can get to know the individual villagers if you wish! The sea only 2km away.
Pervolia is a typical Cypriot village, which can be described as idyllic. You will not find any big hotel complexes with animation around the clock. Instead of this you will find charming and helpful people who will let you be a part of their community and who welcome you with open arms.
There are a few supermarkets, restaurants and banks in Pervolia. The next beaches are 10 minutes away. Near Pervolia you can find Camel Park, Carting Center only 10 minutes and Fun Park only 5 minutes with a car. You will find stony beaches there which however become sandy as you enter the water. So the accent is not on luxury but on peace and quiet. Even in the peak tourist season, these beaches are not crowded and they are known for their crystal-clear waters. Nearby Cape KITI there is a sandy beach which is about 15 minutes walk away, also served by route.
The beaches around Pervolia are well suited for children because the sea deepens gradually thus allowing children to play safely.
There are a lot of places to be seen in Cyprus. Because of its location Pervolia is theideal place to start.

You can drive anywhere in Cyprus within one day.
Come to Marios Apts where you are
spoilt for choice!